The benefits of working with "Garage Door Repair Rye" are plenty. Our company is not only an excellent service provider but it is here to assist clients in various situations. We are experienced garage door contractors but our services extend to the needs of gates, too. We also offer gate repair services with the same attention, zeal and devotion. Our customers can be certain of our dynamics to perform well in either case. Whether you want garage door or gate service, our response will be equally fast and the results of our work will be equally exceptional.
Find out what gate services our company provides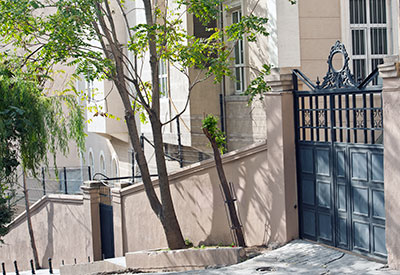 There is no limit in our services when it comes to gates. We are available for their installation and all repair services. If you are looking for experts in their replacement, you will find excellent technicians at our company. We are all fully dedicated to each and every work, like:
Automatic gate opener maintenance
We pay extra attention to the opener parts when we maintain the electric system and we can assure you that our sliding gate operator repair services are excellent. We are well-trained and make sure the operator is checked thoroughly. We correct problems, make adjustments and make sure the sensors can save you from entrapment.
Rolling gate wheels installation
Sliding gate rollers need great attention when they are replaced. We are experienced with all types and can consult you whether it's best to choose new galvanized or nylon ones. In either case, our installation service is excellent. We make sure the new rollers are connected properly with the track brackets and are perfectly attached to the gate frame.
Swing gate hinges replacement
There are variations among hinges but then again we are experts in swing gate repair services and can fix anything. We replace hinges when they are rusty, damaged or broken and install the new ones with attention. We make sure the panels are adjusted perfectly and our client is satisfied.
Gate posts repair
Posts must be stable so that the gate can move and close properly. We fix problems with their foundations and make sure they are in the right position. Of course, if the posts are rotten or seriously damaged, they will be replaced as soon as possible.
Gate intercom system service
We provide excellent services for all intercom systems designed for gates. Our technicians are knowledgeable of all these sophisticated systems and excel in intercom installation. We program them and are here to fix problems of your existing phone entry system.
Such systems are demanding and their good service is critical. It's not surprising that the teams of our company study well the requirements and peculiarities of the newest opener and intercom systems. Their development is breathtaking and so is ours! With expert knowledge and the assistance of high tech equipment, it's natural that our services are characterized by excellence. We are dedicated to each task and such devotion is another reason why you can have trust to the competence and exceptional abilities of our teams. We are here to serve you. So, call us!